Overview
SVKM's Institute of Technology center Library is established in 2017 & is fully well-furnished. The library has developed an excellent collection of books, journals, magazines, newspapers. The collection has been Classified as per the Dewey Decimal Classification (DDC) system and a according arranged it subject wise. The Library is situated on the Second flower of the college building. The total library area is of more than 406 sq.mt. It is facilitated with reprography & also a 24 hours Wi-Fi network connection. Library is open for more than 9 hrs. (9 am. to 6.00 pm.) On all working days.
The fully computerized Library is a treasure house of knowledge comprising an ever growing collection of about 3886 books and N Number of e-books with e-journals covering all aspects of Mechanical, Civil, Electrical, Information Technology, and Computer Engineering.
The periodical section is a vital source for academic research and up-to-date information in the field of Engineering. Library holds 34 printed journals (national & international). Besides this, the library has collection of, audio visual material, newspapers, etc.
The web based access of the e-journals to all students and faculty is an important facility provided by the library. Library users can access a variety of full text journals covering variety of titles published by worldwide journals publishers. The library arranges regular awareness programs on use of electronic resources. Library having KOHA Software library material can be searched through the Online Public Access Catalogue (OPAC). Users can access the OPAC to find out the real-time availability of all library materials from their own computer terminals as well as from home. Also, the Library has a membership of National Digital Library (NDL). More than 10 million documents are available in NDL including e-books, journal articles, video lectures etc.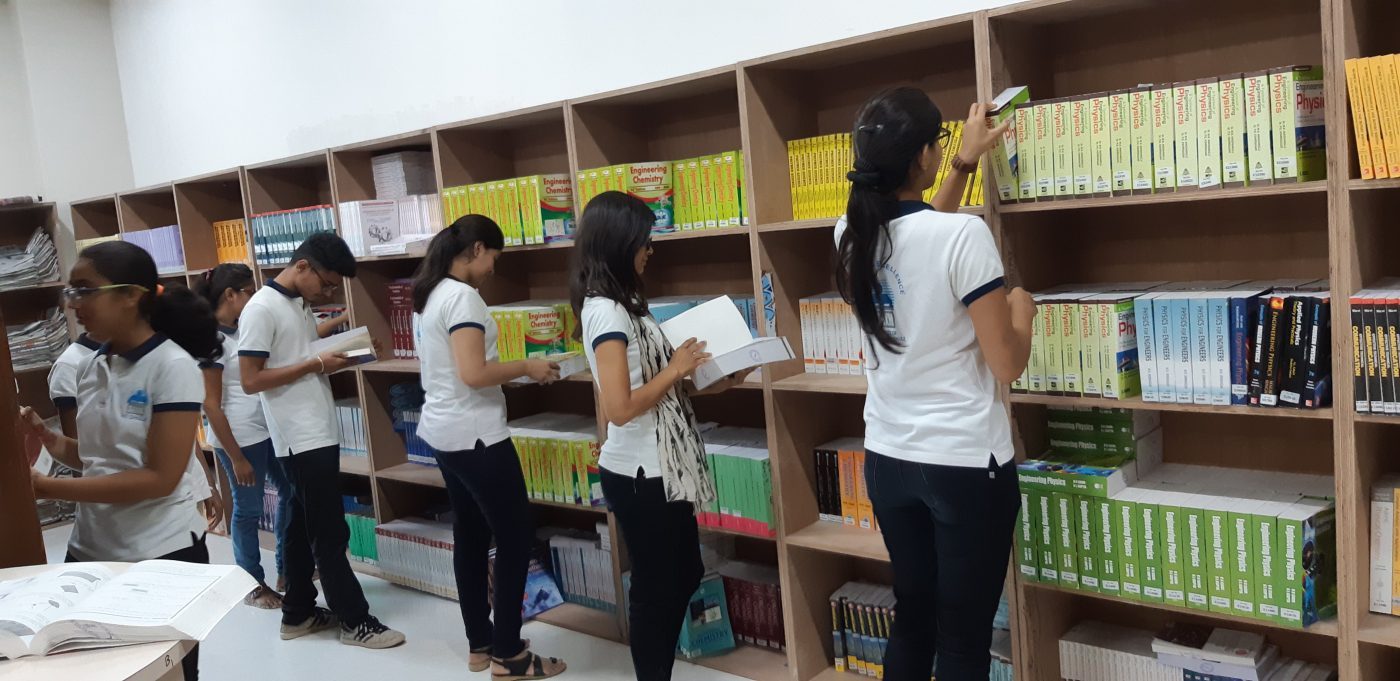 Mission
The mission of the Library and resource center is to facilitate creation of new knowledge through acquisition, organization and dissemination of knowledge resources and providing for value added services.
Library Circulation Time Table
| Day | 10 Am. to 5 Pm. |
| --- | --- |
| Monday | First Year Engineering |
| Tuesday | Second Year Engineering |
| Wednsday | First Year Engineering |
| Thurday | Second Year Engineering |
| Friday | First Year Engineering |
| Saturday | Second Year Engineering |
| Sr. No | Library User Category | No. of Books | Duration of Issue |
| --- | --- | --- | --- |
| 1 | Students | 3 | 15 Day's |
| 2 | Faculty | 5 | One Semester |
| 3 | Technical / Admin Staff | 2 | One Semester |
Library Working Hours
Monday to Saturday : 9 AM. To 6 PM.
Sunday & Holiday : Remain close for the day.
Rules and Regulations
The following are some of the important rules for the central library
Admission to Library
– Membership/Identity cards are required to be shown at the entrance on demand.
– Personal belonging are not allowed to be taken inside the Library. It should be deposited at the Property Counter and should be collected back on the same day otherwise Library will not be responsible for any loss.
– Members can take their personal books into library after necessary checking by library staff.
Library Discipline
– Readers should handle the library reading material very carefully and should not damage (writing, Marking & Tearing books)
– Failing to do so /damage library material or property, the person concerned shall be liable to pay the replacement cost. In addition, his membership may be cancelled at the discretion of the Librarian.
– Members are expected to maintain strict silence and conduct themselves with dignity to maintain atmosphere for study and research.
– Library members should not misbehave with library staff.
– Library reading material can't be taken out without getting it properly issued.
– Members have to maintain complete silence in the Library (do not talk or discus, use of cell phone/Head Phone/I-pod etc.. is strictly prohibited).
– Short pants / Bermuda, eatable & cold drinks are not allowed in the library premises.
Loan Privilege
On appointment as full time faculty or administrative staff he/she automatically become a member of the Library.
Faculty/ Administrative Staff
-All regular members are eligible for issue three books for a two week.
– Books belonging to Reserve & Reference Section and Periodicals will not be issued in any condition.
– Reading material's overdue charges will be collected as per the library policy.
Conditions of Loan
– An over-due charge of Rs. 3.00 per book, per day will be charged.
– Books issued/loaned can be requested back for repossession by the Librarian at any time.
Loss of Books etc.
– In case of loss of library books the reader has to submit new book or pay recent cost of the lost book.
Loss of Library Card
– The loss of library card should be immediately reported to the circulation desk in writing.
– On request, duplicate card may be issued within 7 days from the application and for that the member has to pay Rs.50/- for the duplicate card.
Reservations of Books
– Library members can reserve online only 1 books at a time.
– The reserved/ on demand books will not be reissued once returned.
General Rules
– The Library membership card will not be transferable.
– Any constructive suggestion from readers will be most welcomed.
– Members will maintain strict discipline and decorum in the library.
– No one should remove newspaper/ current issues of periodical on display without prior permission.
– No one should enter the counter or use library instruments/equipment without prior permission.
– Members/ borrowers are requested to check the physical condition of the books before issuing, at the time of returning a damaged book will not be accepted.
– Members who have over-due charges pending shall not be allowed to issue books or withdraw security deposit.
– The Librarian may relax/change the library rules from time to time.
– Anyone found violating afore mentioned library rules will be liable to such action as may be deemed necessary by the Librarian.
Library Resources
| | |
| --- | --- |
| Number of Books | 3886 |
| Number of Educational CD's/DVD's | 330 |
| Question Papers & Syllabus for | all Branches |
| | |
| --- | --- |
| National Journals | 30 |
| International Journals | 04 |
| Magazines | 05 |
| Newspapers | 11  |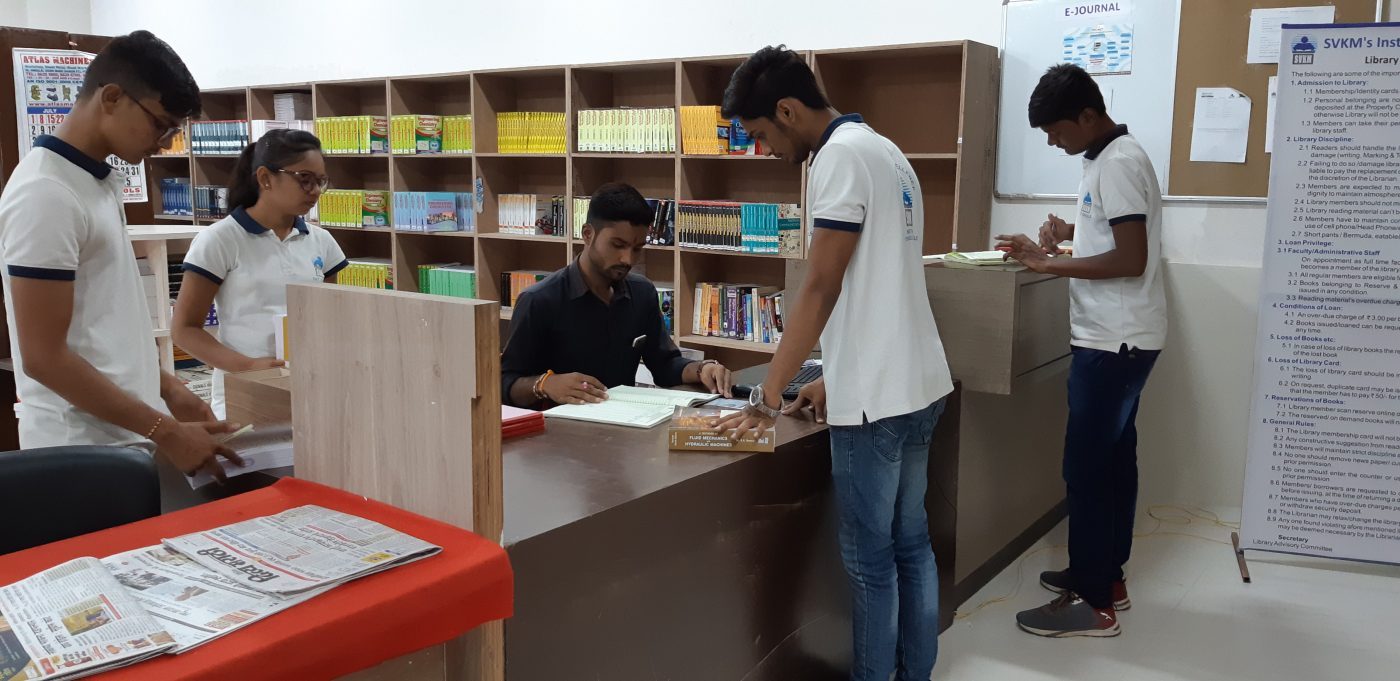 Database: DELNET
Library Automation Software:KOHA
Databases Available with WEB access provided by SVKM
| | | |
| --- | --- | --- |
| 1 | ASME | 32 full text e- journals + back files since 2000 |
| 2 | ASCE | 38 full text e- journals |
| 3 | McGraw Hill Access Engineering | 363 books & Handbooks |
| 4 | Springer | 149 journals (Engineering, Computer Science & Mathematics) |
| 5 | Science Direct | 275 journals (Engineering & Computer Science) |
| 6 | ProQuest | 25000 + Journals |
| 7 | J-Gate | 11000 + Journals |
| 8 | Economic and Political Weekly | |
Research Databases –
1. CMIE Eco. Outlook
2. CRISIL
3. Euromonitor Passport
4. EPWRF India Times Series
5. Frost & Sullivan
6. ISI Emerging Market.
Statistical Database –

India Stats

Directory –

Cabell Directory

Market Databases-

TVADINDX, WARC

Law Databases-

Manupatra, Lexis Nexis, Hein Online, WestLaw
E-books
1. Ebrary –

1,46,589 e-books

2. Pearson –

361 e-Books
Institutional Memberships
1. National Digital Library

2. Swayam / Moocs
Plagiarism Software
Other Resources with web Access
A. Blackboard
B. Gate Practice Software
C. NPTEL
D. Library OPAC (Online Public Access Catalogue)
Print Journals
List of National Journals
| Sr. No | Library User Category | No. of Books |
| --- | --- | --- |
| 1 | Advances in Materials Science and Mechanical Engineering Research | Mechanical |
| 2 | Indian Academy of Sciences, Proceedings in Engineering Sciences | Mechanical |
| 3 | Indian Journal of Advance and Applications in Fluid Mechanics | Mechanical |
| 4 | Indian Journal of Advanced in Thermal Science and Engineering | Mechanical |
| 5 | Indian Journal of advanced Mechatronics and Robotics | Mechanical |
| 6 | Indian Journal of Engineering & Materials Sciences (IJEMS) | Mechanical |
| 7 | Advances in Wireless and Mobile Communications | Computer |
| 8 | Indian Journal for Computational Vision and Biomechanics | Computer |
| 9 | Indian Journal of Advances in Computer and Information Engineering | Computer |
| 10 | Indian Journal of Computation Theory | Computer |
| 11 | Indian Journal of Computer Graphics and Visualization | Computer |
| 12 | Indian Journal of Data Mining and Warehouse | Computer |
| 13 | IEEMA Journal | Electrical |
| 14 | I-Manager Journal on Electrical Engineering | Electrical |
| 15 | Indian Journal of Electrical Engineering and Modern Technology | Electrical |
| 16 | Journal of Electrical Engineering | Electrical |
| 17 | Journal of Innovation in Electrical and Computer Engineering | Electrical |
| 18 | Journal of Power Engineering | Electrical |
| 19 | Civil engineering & construction review | Civil |
| 20 | Indian Concrete Journal | Civil |
| 21 | Indian Journals of Civil engineering and research development | Civil |
| 22 | Journal of urban planning and development | Civil |
| 23 | Recent trends in civil engineering and technology | Civil |
| 24 | Trends in transportation and applications | Civil |
| 25 | Global Journal of Information Science and Engineering | IT |
| 26 | Indian Journal of Current Development in IT & Database System | IT |
| 27 | Indian Journal of Image Processing and Technique | IT |
| 28 | Indian Journal of Secure Internet and Computer Security | IT |
| 29 | Indian Journal of Software Business Management | IT |
| 30 | Journal of Web Engineering & Technology | IT |
List of International Journals
| Sr. No | Name of Journal | Department |
| --- | --- | --- |
| 1 | Advances in Materials Science and Mechanical Engineering Research | Computer |
| 2 | Indian Academy of Sciences, Proceedings in Engineering Sciences | Civil |
| 3 | Indian Journal of Advance and Applications in Fluid Mechanics | Electrical |
| 4 | Indian Journal of Advanced in Thermal Science and Engineering | Mechanical |
|   |   |   |
|   | LIST OF MAGAZINE |   |
| 1 | Competition Success Review |   |
| 2 | India Todays |   |
| 3 | Down To Earth |   |
| 4 | University News |   |
| 5 | Sapthik Sadhana |   |
List of News Papers
| Sr. No | Name of News Papers | Language of Publication | Frequency |
| --- | --- | --- | --- |
| 1 | Times of India | English | Daily |
| 2 | The Indian Express | English | Daily |
| 3 | The Economic Times | English | Daily |
| 4 | Employment News | English | Weekly |
| 5 | Nava Bharti Times | Hindi | Daily |
| 6 | Divya Bharti Times | Marathi | Daily |
| 7 | Loksatta | Marathi | Daily |
| 8 | Maharashtra Times | Marathi | Daily |
| 9 | Lokmat | Marathi | Daily |
| 10 | Sakal | Marathi | Daily |
| 11 | Aapala Maharashtra | Marathi | Daily |
Library Services
Reference Service
Multimedia / Digital Library
Circulation (Book issue / return)
Library Reading Room
Bibliography service
OPAC – Online Public Access Catalogue
New Arrival Display
CAS – Current Awareness Service
Orientation Program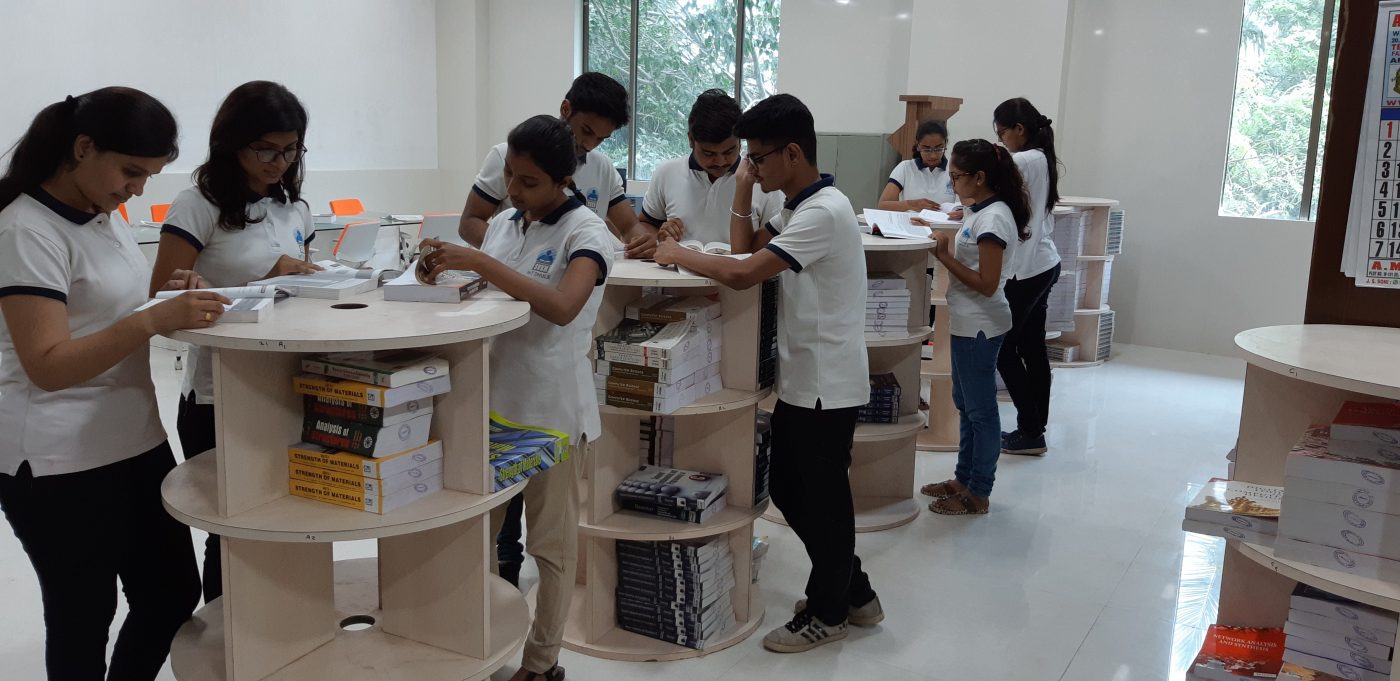 Library Committee
| Sr. No | Name of Member   |   Department | Designation |
| --- | --- | --- | --- |
| 1 | Dr. Nilesh Salunke | Principal | Chairman |
| 2 | Prof. S. B. Khandekar | Library | Secretary |
| 3 | Dr. Tushar Shinde | Applied Sci. | Member |
| 4 | Prof. Khalid Alfatmi | Computer/IT Engineering | Member |
| 5 | Prof. Vishal Moyal | Electrical Engineering | Member |
| 6 | Prof. Mohammad Junaidudin | Mechanical Engineering | Member |
| 7 | Prof. Shrikant Randhavane | Civil Engineering | Member |
Central Library Staff Qualification and Experience
| Sr. No | Name |  Designation | Qualification  | Date of Joining   |
| --- | --- | --- | --- | --- |
| 1 | Prof. S. B. Khandekar | Librarian | M. Lib. Isc. NET | 03/07/2017 |
Library Contact Us

SVKM's Institute of Technology, Center Library
Behind Gurudwara, Mumbai – Agra Highway, Dhule

Email:
Time Table
Achievement